Keana Tang
---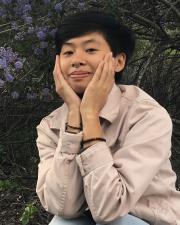 Biography
—
Faculty Mentor: Brian Atkinson
Research interests: Paleobotany and plant evolution
Hometown: Los Angeles, CA
Education
—
B.S. in Organismal Biology, California State University Long Beach
M.A., University of Kansas, 2021
Selected Presentations
—
Tang, K. and Fisher A.E. A Visual Guide and Morphometric Analysis of Leaf Shapes of Common Shrubs of the Santa Ana Mountains of Southern California. Botany 2019, Tucson, Arizona, July 2019. Poster presentation.
Grants & Other Funded Activity
—
Tang, K. PLANTS Grant, Undergraduate Travel Awards: Enhancing Diversity at the Botanical Society of America Conferences. BSA, NSF. 07/21/2018 – 07/25/2018. Funded.