Dr. Gerrit de Boer
---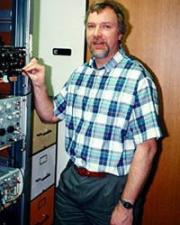 Biography
—
Dr. de Boer's studied the physiological basis of insect-plant interactions; he is a faculty advisor with KUUB.
Research
—
My research interests center on the physiological basis of insect-­plant interactions. More specifically, my research focuses on the chemical and chemoperceptual mechanisms underlying feeding decisions by caterpillars. Many herbivorous insects feed on only a few plant species despite an overwhelming abundance of plants in their environment. Caterpillars are excellent models for studying the physiological basis of feeding behavior because of their keen sense of smell and taste and their relatively simple nervous system which is readily accessible for experimental manipulation. My current research program is very limited due to an appointment in the University Advising Center as a Faculty Advisor. I am no longer accepting graduate students. However, I still serve as a Co-Advisor for students doing research in the areas of Sensory Behavior/Physiology and Insect-Plant Interactions.
Teaching
—
My teaching philosophy is based upon my own experiences as a student that having an enthusiastic teacher and a learning friendly environment results in a better understanding of the course materials while enjoying the learning process. My goal is to stimulate an appreciation for and an understanding of biology by having students connect with the content through constructing a framework of key vocabulary and concepts. I aim to show them these connections which they can use in related courses, future professions, or their daily lives. Essential teaching components are learning about the scientific method and reading, analyzing, and criticizing the content of primary research papers.
Teaching interests:
biology
animal physiology
insect physiology
insect-Plant interactions. chemical signals
chemical ecology.