Dr. Kristen Baum
---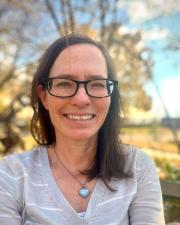 Director of Monarch Watch
Professor, Ecology and Evolutionary Biology
Research Interests: Pollinator Ecology, Plant-Insect Interactions, Insect Conservation, Monarch Butterflies, Grassland Ecology, Managed Ecosystems
Biography
—
Baum earned a BS in Environmental Science from the College of William and Mary, a MS in Wildlife and Fisheries Sciences from Texas A&M University, and a PhD in Entomology from Texas A&M University. She also completed a postdoc in Biological Sciences at Louisiana State University. Baum was previously a professor in the Department of Integrative Biology at Oklahoma State University for more than eighteen years and served as the Associate Dean for Research for the College of Arts and Sciences for five years. 
 
Research
—
Baum's research focuses on the effects of land use and management practices on pollinators, with an emphasis on native bees and monarch butterflies. Recent projects have evaluated pollinator responses to prescribed fire and seeding in grasslands, prescribed fire and grazing in rangelands, mowing in roadsides and pesticide applications in canola-wheat-pasture systems. Baum has served on numerous state, regional and national working groups to support conservation efforts for pollinators.
Teaching
—
Baum has previously taught courses on invertebrate zoology and ecology at the undergraduate level, and courses on spatial ecology, mentoring, and broader impacts at the graduate level. She has also led faculty workshops on incorporating critical thinking and writing into courses.