Tokee Tareq
---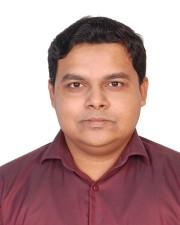 Biography
—
Faculty Mentor: Maggie Wagner
Research Interests: Plant-microbe interaction, metagenomics
Hometown: Kishorgonj, Bangladesh
Education
—
B.S. in Biochemistry and Molecular Biology, University of Dhaka
M.S. in Biochemistry and Molecular Biology, University of Dhaka
Selected Publications
—
M. Sazzadur Rahman, Tokee M Tareq, Protup K. Sarker, E.S.M. Harunur Rashid, Rumena Yasmeena, M. Ansar Alia, Zeba I. Seraj, Hiroyuki Shimono. Genetic variation of phenotypic plasticity in Bangladesh rice germplasm. Field Crops Research, Volume 243, Article No. 107618, (2019).
Tokee M Tareq, M Sazzadur Rahman, Nurnabi A Jewel, Tasmia Islam, Hiroyuki Shimono, Zeba I Seraj. Relative Response of Indigenous Rice Genotypes to Low Versus Normal Planting Density for Determination of Differential Phenotypic Plasticity in Traits Related to Grain Yield. Plant Tissue Culture and Biotechnology Vol 28, No 1 (2018).
Iftekhar Bin Naser, M. Mozammel Hoque, M. Ausrafuggaman Nahid, Tokee M Tareq, M. Kamruzzaman Rocky & Shah M. Faruque. Analysis of the CRISPR-Cas system in bacteriophages active on epidemic strains of Vibrio cholerae in Bangladesh. Scientific Reports 7, Article number: 14880 (2017).
Selected Presentations
—
Tokee M Tareq, Nurnabi Azad Jewel, Taslima Haque, Zeba Islam Seraj. In silico identification and validation of polymorphic SSR markers from assembled IR29 and Horkuch genome. 6th International Conference on Bioinformatics and Bioinformatics for Agriculture, Health and Environment (2017)
Tokee M Tareq, Nurnabi Azad Jewel, Taslima Haque, Zeba Islam Seraj. Population stratification of Bangladeshi rice landraces and comparative genetic architecture of the groups. International Conference on Genomics Nanotech & Bioengineering; (ICGNB 2017).