Dr. Nichole A. Ginnan
---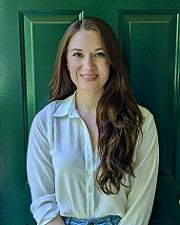 Research
—
Faculty Sponsor: Maggie Wagner
My current research is investigating microbial adaptations to drought in soil and plant associated communities.
Selected Publications
—
Ginnan NA, Dang T, Bodaghi S, Ruegger P, McCollum G, England G, Vidalakis G, Borneman J, Rolshausen P, Roper MC (2020). Disease-induced microbial shifts in citrus indicate microbiome-derived responses to Huanglongbing across the disease severity spectrum. Phytobiomes. In press. DOI: PBIOMES-04-20-0027-R
Blacutt A, Ginnan NA, Dang T, Bodaghi S, Vidalakis G, Ruegger P, Peacock B, Viravathana P, Campos-Vieira F., Drozd, C, Jablonska B., Borneman J, McCollum G, Cordoza J, Meloch J, Berry V, Salazar L, Maloney K, Rolshausen P, Roper, MC. (2020). Development of an in vitro pipeline to screen and select citrus-associated microbiota with potential anti-Candidatus Liberibacter asiaticus properties. Applied and Environmental Microbiology. Vol. 86. Issue 8. DOI: 10.1128/AEM.02883-19
Su Y, Ashworth V, Geitner N, Wiesner M, Ginnan NA, Rolshausen P, Roper C, Jassby D. (2020). Delivery, Fate, and Transport of Silver Nanoparticles in Citrus Trees. ACS Nano. 14(3):2966-2981. DOI: 10.1021/acsnano.9b07733
Pedroncelli L, Carter-House D, Ginnan NA, Andrews H, Drozd C, DiSalvo B. (2019). The Consequences of Drought on Plant Pathology. Journal of Science Policy and Governance: Vol. 15, Issue 1.
Ginnan NA*, Dang T*, Bodaghi S, Ruegger P, Peacock B, McCollum G, England G, Roper MC, Rolshausen P, Borneman J (2018) Bacterial and Fungal Next Generation Sequencing Datasets and Metadata from Citrus Infected with Candidatus Liberibacter asiaticus. Phytobiomes: 2018 2:2, 64-70.
Ginnan, NA, Lawrence, JR, Russell M, Eggett DL, and Hatch KA (2014) Toe Clipping Does Not Affect the Survival of Leopard Frogs (Rana pipiens). Copeia: Vol. 2014, No. 4, pp. 650-653.
Selected Presentations
—
Ginnan, Nichole. (2020, May). Pathogens, Plant Phenology, and Microbial Competition Imoact the Structure and Function of the Citrus Microbiome. Talk presented at the University of California Davis MMI seminar in Davis, CA.
Ginnan, Nichole, Rolshausen, P., Roper, M.C. (2019, July). Microbial Community Dynamics Associated with Host Phenological Stages of Citrus sinensis. Poster presented at the International Congress of Molecular Plant-Microbe Interactions (MPMI) in Glasgow, Scotland, United Kingdom.
Ginnan, Nichole, Dang, T., Ruegger, P., Borneman, J., Rolshausen, P., Vidalakis, G., Bodaghi, S., McCollum, G., Roper, M.C (2019, March). Microbial Community Shifts Accosiated with Huanglongbing Severity. Talk presented at International Research Conference on HLB (IRCHLB) in Riverside, CA.
Ginnan, Nichole, Rolshausen, P., and Roper, M. (2019, February). Deciphering the role of the Citrus Microbiome in Host Phenology and Disease Development. Talk presented at UCR Plant Pathology seminar, Riverside, CA.
Ginnan, Nichole, Rolshausen, P., and Roper, M. (2018, June). Deciphering the architecture of the citrus microbiome. Poster presented at ICPP in Boston, MA.
Ginnan, Nichole, Rolshausen, P., and Roper, M. (2018, February). Deciphering the architecture of citrus microbiota. Poster presented at Citrus Day for Industry, Riverside, CA.
Ginnan, Nichole and Roper, M. (March 2017). Uncovering the functional roles of the citrus microbiome using a gnotobiotic plant system. Poster presented at the European Molecular Biology Organization (EMBO) Plant Microbiota Practical Course at Max Planck Institute, Cologne, Germany.
Ginnan, Nichole, Dang, T., Ruegger, P., Borneman, J., Rolshausen, P., Vidalakis, G., Bodaghi, S., McCollum, G., Roper, M.C. (2017, February). Uncovering the role of the citrus microbiome in a pathogen tolerant phenotype. Poster presented at UCR Citrus Day for Industry, Riverside, CA
Ginnan, Nichole. (2017, February). Why do Plants have Partnerships?: Uncovering the functional roles of the citrus microbiome using a gnotobiotic plant system. Talk presented at the UCR Department of Plant Pathology Seminar, Riverside, CA
Ginnan, Nichole, Dang, T., Ruegger, P., Borneman, J., Rolshausen, P., Vidalakis, G., Bodaghi, S., McCollum, G., Roper, M.C. (2016, November). Uncovering the role of the citrus microbiome in a pathogen tolerant phenotype. Poster presented at Keystone Symposia: Phytobiomes: From Microbes to Plant Ecosystems, Santa Fe, NM
Ginnan, Nichole, Dang, T., Ruegger, P., Borneman, J., Rolshausen, P., Vidalakis, G., Bodaghi, S., Roper, M.C. (2016, August). The Role of the Citrus Microbiome in Tree Health and Tolerance to Pathogens. Poster presented at the American Phytopathological Society Annual Meeting, Tampa, FL
Ginnan, Nichole. (2016, April). Microbiomes and Sustainable Agriculture. Talk presented at the GradSlam Competition Finals, UC Riverside, Riverside, CA
Ginnan, Nichole. (2016, January). Microbiomes and Plant Microbiota-Mediated Resistance. Talk presented at the UCR Department of Plant Pathology Seminar, Riverside, CA