Kaylee Herzog
---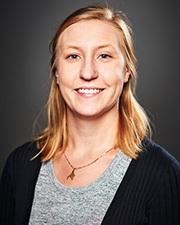 Biography
—
Faculty Mentor: Kirsten Jensen
Research Interests: Taxonomy and systematics of elasmobranch tapeworms; host-parasite cophylogeny
Hometown: Delmar, NY
Education
—
B.S. in Biology, State University of New York College at Oneonta
summa cum laude
M.A. in Ecology and Evolutionary Biology, University of Kansas
honors
Selected Publications
—
Herzog, K.S. and K. Jensen. 2018. Five new species of the tapeworm genus Anthocephalum (Rhinebothriidea: Anthocephaliidae) parasitizing a single species of Indo-Pacific stingray and a revised diagnosis of the genus. Journal of Parasitology 104:5, 505–522.
Jensen, K., J.J. Cielocha, K.S. Herzog, J.N. Caira. 2017. Lecanicephalidea. In: Planetary Biodiversity Inventors: Tapeworms from the Vertebrate bowels of the Earth (2008–2016). Caira, J.N. and K. Jensen (eds). University of Kansas Natural History Museum Special Publication No. 25. Lawrence, KS: pp. 189–210.
Herzog, K.S. and K. Jensen. 2017. A new genus with two new species of lecanicephalidean tapeworms (Cestoda) from the spotted whipray Urogymnus granulatus (Myliobatiformes: Dasyatidae) from the Solomon Islands and Northern Australia. Folia Parasitologica 64:004. 12 pp.
Reyda, F.B., C.J. Healy, A.R. Haslach, T.R. Ruhnke, T.L. Aprill, M.P. Bergman, A.L. Daigler, E.A. Dedrick, I. Delgado, K.S. Forti, K.S. Herzog, R.S. Russell, and D.D. Willsey. 2016. A new genus of rhinebothriidean cestodes from batoid elasmobranchs, with the description of five new species and two new combinations. Folia Parasitologica 63:038. 28 pp.
Simões, M., L. Breitkreuz, M. Alvarado, S. Baca, J.C. Cooper, L. Heinz, K. Herzog and B.S. Lieberman. 2016. The evolving theory of evolutionary radiations. Trends in Ecology and Evolution 31:1 27–24.
Selected Presentations
—
2018: Trypanorhynchs from Batoids of Mozambique, K. Herzog (presenter) and K. Jensen. Oral presentation given at the American Society of Parasitologists 2018 Annual Meeting, Cancun, Mexico
2017: The Tapeworm Fauna of the Giant Devilray (Mobula mobular [Bonnaterre]): A Trans-Pacific Distribution, K. Herzog and K. Jensen. Poster presented at the 9th International Workshop on Cestode Systematics and Phylogeny, Rostock, Germany
2017: An Unusually High Number of New Species of Anthocephalum (Rhinebothriidea: Anthocephaliidae) Parasitizing a Single Species of Indo-Pacific Stingray Host, K. Herzog (presenter) and K. Jensen. Oral presentation given at the American Society of Parasitologists 2017 Annual Meeting, San Antonio, TX
2017: Insight into the Familial Placement of Two of the Most Devilish Tapeworm Genera, K. Herzog (presenter) and K. Jensen. Oral presentation given at the Southwestern Association of Parasitologists Annual Meeting, Lake Texoma, OK
2017: The Circle of Life-Cycles: Parasitic Mind Control and the Weird Sex Lives of Worms. One of three selected speakers for the public lecture event Nerd Nite 58: "Creature Feature", Lawrence, KS
2016: Does Size Matter? Tapeworm Faunal Diversity and Host Size in the Mangrove Whipray from the Solomon Islands and Australia, K. Herzog (presenter) and K. Jensen. Oral presentation given at the American Society of Parasitologists Annual Meeting, Edmonton, Canada
2015: A New Genus of Lecanicephalidean Tapeworm with Comments on its Distribution within a Host Species, K. Herzog (presenter) and K. Jensen. Oral presentation given at American Society of Parasitologists Annual Meeting, Omaha, NE
Grants & Other Funded Activity
—
2017–2021: University of Kansas Madison & Lila Self Graduate Fellow ($175,000)
2015–2017: University of Kansas Department of Ecology & Evolutionary Biology and Biodiversity Institute Summer Funding Fellowship ($9,000)
2017: University of Kansas Graduate Studies Doctoral Student Research Fund Student Research Grant ($1,470)
2017: University of Kansas Office of Graduate Studies and Office of Research Graduate Scholarly Presentation Travel Fund Student Travel Award ($500)
2017: Student Travel Award: American Society of Parasitologists Marc Dresden Student Travel Award ($400)
2017: American Society of Parasitologists Outstanding Student Paper Award ($400)
2017: University of Kansas Department of Ecology & Evolutionary Biology Graduate Travel Award Student Travel Award ($350)
2015: Student Travel Award: University of Kansas Department of Ecology & Evolutionary Biology Graduate Student Organization ($250)
2015: Southwestern Association of Parasitologists David A. Becker Memorial Award- honorable mention in oral presentation ($200)
Memberships
—
American Society of Parasitologists Education Committee: Student representative (2017–2019)
American Society of Parasitologists Editorial Committee: Student representative (2017)
Graduate Student Organization Executive Committee, Department of Ecology and Evolutionary Biology, University of Kansas: Co-president (2017–2018)
Graduate Student Organization Awards Committee, Department of Ecology and Evolutionary Biology, University of Kansas (2016–2017)
Graduate Program Committee, Department of Ecology and Evolutionary Biology, University of Kansas: Student representative (2015–2016)