Katie Allen-Tapondjou
---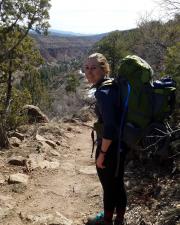 Biography
—
Faculty Mentors: Rafe Brown and A. Townsend Peterson
Research interests: Phylogeography of Central African reptiles
Hometown: Jefferson City, Missouri
Education
—
B.S. in Biology, Truman University
M.S. in Biology, Villanova University
Selected Publications
—
Allen, K.E., Aviles Rodriguez, K.J., Eifler, D.A. and R. Powell. 2015. Social and environmental factors influence microhabitat selection in the brown speckled sphaero, Sphaerodactylus notatus (Squamata: Sphaerodactylidae). Journal of Herpetology 49 (2), 165-169.
Diamond, K., Trovillion, D., Allen, K.E., Malela, K.M., Noble, D.A., Powell, R., Eifler, D.A. and M. E. Gifford. 2014. Individual (co)variation of field behavior and locomotor performance in curly tailed lizards. Journal of Zoology, 294(4), 248-254.
Allen K.E. and R. Powell. 2014. Thermal biology and microhabitat use in Puerto Rican eyespot geckos (Sphaerodactylus macrolepis macrolepis). Journal of Herpetological Conservation and Biology, 9(3), 590-600.
Selected Presentations
—
Allen, K.E., Jackman, T.R., and Bauer, A.M. Comparative phylogeography of Trachylepis skinks in the Cameroon Volcanic Line. Society for the Study of Amphibians and Reptiles. July-August 2015. Lawrence, KS.