Abdelkafar Alkishe
---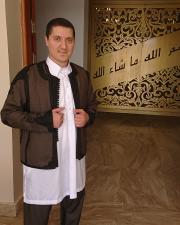 Biography
—
Faculty Mentor: A. Townsend Peterson
Research interests: Ecological Niche Modeling (Disease Modeling)
Hometown: Tripoli, Libya
Education
—
B.S. in Zoology, University of Tripoli, 2010
M.A. in Ecology and Evolutionary Biology, University of Kansas, 2017
Selected Publications
—
Alkishe, A. A., Peterson, A. T., & Samy, A. M. (2017). Climate change influences on the potential geographic distribution of the disease vector tick Ixodes ricinus. PloS one, 12(12), e0189092.
Samy, A. M., Alkishe, A. A., Thomas, S. M., Wang, L., & Zhang, W. (2018). Mapping the potential distributions of etiological agent, vectors, and reservoirs of Japanese Encephalitis in Asia and Australia. Acta Tropica, 188, 108-117.
Selected Presentations
—
GIS day poster presentation 2017.
Poster presentation in the American Society of Tropical Medicine and Hygiene (ASTMH) 2018.
Awards & Honors
—
Fall 2013- Spring 2017 Libyan Ministry of Higher Education and Scientific research funding (stipend and tuition).
Travel reward $350 From the Department of Ecology and Evolution Biology.
Travel reward $350 From Biodiversity Institution.